Computed tomography (CT) uses x-rays to produce multiple images of the inside of the body and provides thin, cross-sectional "slices" for viewing internal organs, bone, soft tissue, and blood vessels. We are using the 16 slices GE Healthcare Brivo CT system.
Veterinarians request CT imaging to facilitate:
• Visualization of Complex bone structures, musculoskeletal disorders, and bone neoplasia • Diagnosis of disc diseases and spinal cord compression • Identify skull lumps or tumors • Evaluation of intrathoracic tumors and screening for pulmonary metastases • Assessment of sinonasal disease and ear disease • Planning for surgical repair of joints and complex fractures
Diagnosing disorders accurately
Visualizing bone, soft tissue, and blood vessels all at the same time
Painless; Noninvasive; Fast; Highly informative
COMPUTED TOMOGRAPHY
GALLERY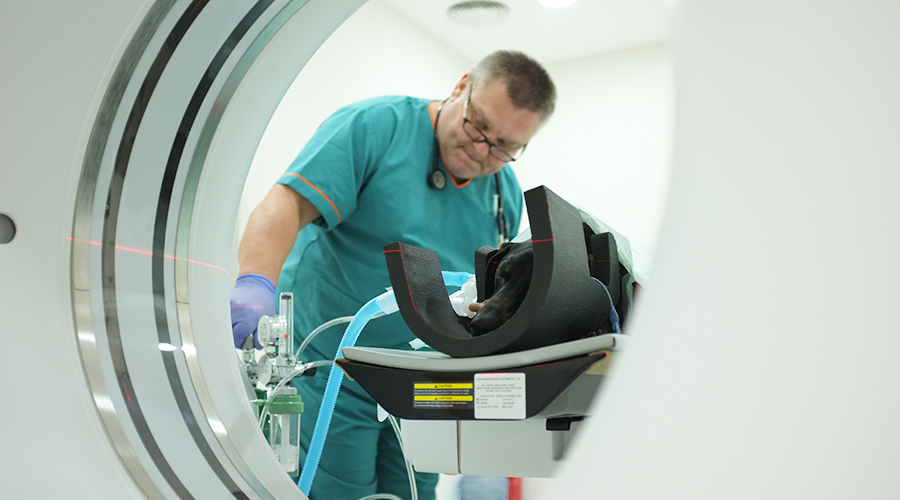 Frequently
ASKED QUESTIONS
The following FAQs can help you learn more about our Computed tomography services. If you have any additional queries, please contact us.
The entire CT scan procedure takes approximately 30 minutes.
Yes, the patient should be adequately sedated to minimize any possible motion artifacts caused by movement during the CT scan procedure.
1) Ask the referring veterinarian to fill out the below referral form
2) The patient should be fasted for at least 6 hours prior to the scan
3) Drop off your pet at the hospital at the pre-arranged time with our receptionists and fill in the consent form. We will inform you once sedation has worn off and your pet can be picked up.
CT REFERRAL
FORM