Our surgeon at Zabeel Veterinary Hospital has extensive experience operating on the skeletal system and associated soft tissues. Orthopedic surgery is usually performed to treat bone fractures and injuries to joints, ligaments, and tendons. The following are examples of some orthopedic procedures we regularly carry out at Zabeel Veterinary Hospital:
• Fracture Repair (including any complicated cases) • Cruciate Ligament Repair • Total Hip Replacement • Hip Dysplasia Correction • Triple Pelvic Osteotomy (TPO) • Ununited Anconeal Process (UAP) • Growth Deformity Correction • Arthrodesis or joint fusion • Amputation
Restoring the normal locomotory functions
Allowing your pet to maintain its active lifestyle
Orthopedic Surgery
GALLERY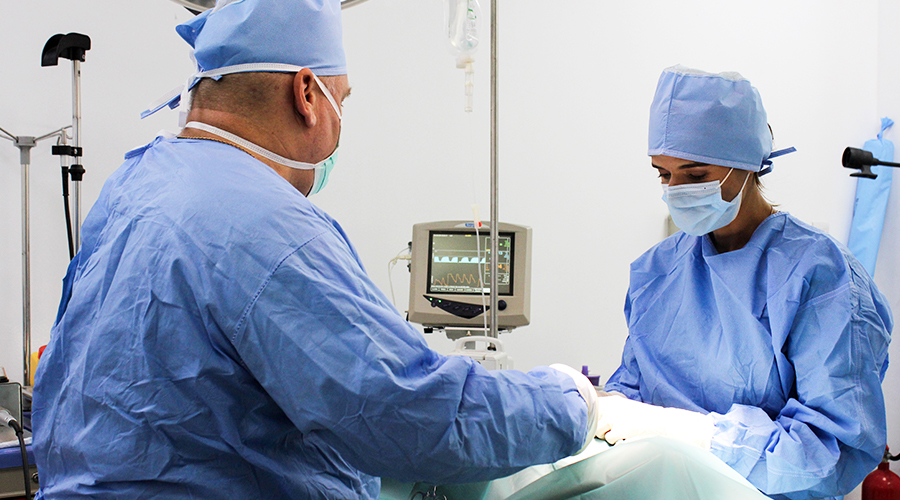 Frequently
ASKED QUESTIONS
The following FAQs can help you learn more about Orthopedic Surgery. If you have any additional queries, please contact us.
We always give particular and detailed recommendations for each appointment. Generally, it is advisable to avoid feeding at least 6 to 12 hours prior to sedation or anesthesia.
Sedation and anesthesia always carry inherent risks which differ between patients. We, therefore, treat each patient as an individual. Our veterinarians aim to minimize this risk by performing a pre-anesthetic clinical assessment of the patient (includes visual observation, heart and lung auscultation, palpation, and temperature check) and pre-anesthetic blood analysis if indicated.